Overview
Spotlyte is an iOS mobile app and website that enables the user to find the best happy hours and daily specials near your vicinity across Chicago.
If the user is unfamiliar in the area and looking to find the meal nearby, Spotlyte can help to save big! This mobile app helps the user to find the locations that have happy hour or daily specials or top spots based on specific criteria with various filters integrated.
The developed mobile app is also integrated with the map which provides the ability to zoom in/out and when they change their position, new locations automatically loads up in the new map screen.
Challenges and Goals
With the popularization of happy hour concept, people are always keen to know which place around them is offering discounts. This trend has created buzz for the audience as they want to get all information in their vicinity within few seconds. So, the client wanted to focus on informing customers to the trendiest place during off-peak hours with some discounts at a certain pre-set time of the day. The client already had aggregated data from over 3700 locations entered manually for SEO purpose and accurate database of over 25000 daily specials and 2000 Top Spot locations from 25+ different categories. But, due to some issues with the functionalities, client approached TOPS Infosolutions to solve some specific requirements. To be precise, the client wanted to
Remain competitive and encourage customer loyalty
Target brand loyal customers
Reach new customers and lure former customers back
Increase traffic for the mobile app and website
TOPS, developed the mobile app that provided one stop shop to find happy hours specials and daily deals.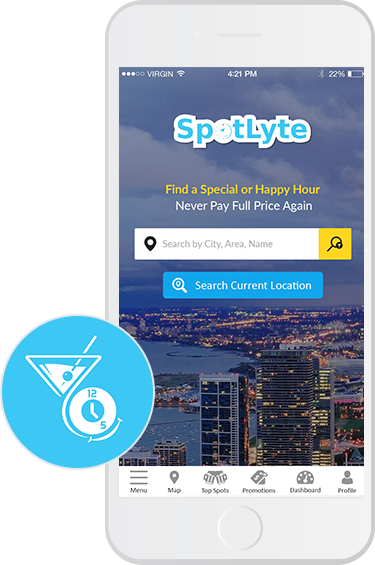 The Solution
The team of TOPS developed a mobile app that automatically displayed every location around the user to make decision on where to go. No-fuss and friendly search filters were added which includes item, day, time, mile, radius, price, top spot category and much more to let the customer know the best deals across the platforms near them.
Moreover, our experts made sure that user can
Easily determine location's rating by color code heat maps
Check Yelp reviews, make reservations on Open Table, order delivery on GrubHub
Have access to the direct link to each location's website
Post and review comments, check-in, upload photo and rate their experience
Track all the activities of favorite's location and manage their profile
Easily locate the most popular Beer Gardens/RoofTops, BYOBS, Upcoming street festivals, Whisky/wine bars, Karaoke & Trivia spots, Game bars and more.
Apart from deals, business owners can claim their business by
Managing the online listing and presence by adding daily specials, happy hours, drinks, food item etc.
Promote their upcoming special events with great deals and offers
System enables to view the analytics on the dashboard
They can anytime edit the listing in-case of any error or wish to change any offerings. This mobile app is the win-win approach for owners, brands and customers as it enables the owners to earn high by investing less, business to promote their offers and customers an easy and always available way to get the best offers.
SEO Implementation
Deployment of critical SEO strategies to gradually improve performance on website on search engines

Meta-tags management

Search friendly URL

Dynamic number generation

Google Analytics Implementation
Deployment of critical SEO strategies to gradually improve performance on website on search engines

Attracts the attention of the customers

Helps their business to advertise and promote their products

Boosts repeat customers
Result
This system enabled our client to manage the happy hours with ease hence, he was able grow the customer base by simply concentrating more on marketing efforts. The client was able to manage reports, track the number of deals purchased, & control a website & mobile app with the secured login and much more. The client was easily able to collect data which helped to analyze business performance quickly & empowered them to come up with the better strategic decisions.
The developed system (iOS mobile app and website) had easy to use interface and provided a unique solution to solve all the problems of finding deals in Chicago at the nearest location. System exactly worked the same that client wished for & was able to come up with the profitable business
Technology Stack
Native language (Mobile):