Delivering technology innovation to optimize business process
Our tech savvy CodeIgniter team is highly dedicated to provide clean and flawless projects as per the requirements of customers. Our proven expertise, marketing strategies, updated methodologies and standardized management has made us to deliver groundbreaking solutions that have brought the growth in the business. Additionally, we have accomplished many web projects for our clients in various verticals.
Our Web application services includes

Custom web applications
Our experienced CI developers can transform your business value into customized database driven web applications.

Support and Maintenance
We provide end-to-end support and maintenance to ensure web applications are up and running bug free and effortlessly.

Integration with third-party apps
We integrate third party services like payment gateways, email service, social media services, analytics etc. with various APIs.

CodeIgniter Module Development
Our CodeIgniter developers and designers have a proficiency to build up modules that can blend with your business requirements.

CodeIgniter Optimization
Our developers use steady code and ensure optimization for better and faster services. According to the requirements, we further streamline the process using cloud technology for you to stay competitive

CodeIgniter Portal Development
We are committed to offer high excellence web application development services using CodeIgniter for clients related to their classified portal.

Back-end for Mobile applications
Build robust and powerful backend for your mobile applications with our backend application development services using CodeIgniter.

Custom E-commerce development
Code Igniter at TOPS, provide custom E-commerce development services which give your e-store edge that keeps your customers hooked on it

CodeIgniter Migration
Whether you are looking to convert core PHP to CI or core PHP to MVC, our CI services are designed to cater your migration needs.

Rich Internet applications
We develop RIAs that are faster and more interactive using powerful PHP frameworks.

Back-end Mobile applications
We possess the skill to develop API's for your Phone Gap mobile apps with CI technology.
Benefits of our CI web development services
A CodeIgniter development solution enables a zero configuration compared to any other framework. Compatibility and easy maintenance are just some of the benefits of such services. Others include:
Access to a rich set of libraries that can be used easily when needed. You need not write the code from scratch to make any changes; this saves a lot of time leading to faster development.
We provide extensive support and help you to manage your website with our technical assistance.
The system is capable of updating the status of your website keeping it away from viruses and bugs.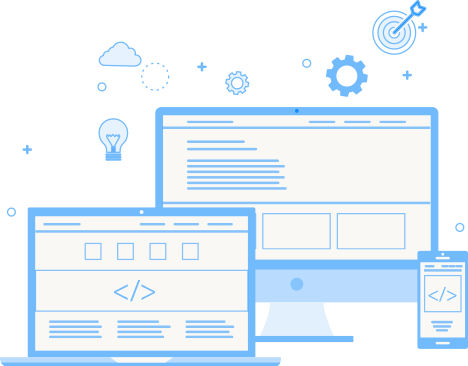 Get a Free Quote
We extend our hands to help you with increasing ROI and automate mission-critical workflows.
Our experts will get back to you with a free, no-obligation quote.
GET A FREE QUOTE