We believe "Prevention is better than cure"
With the frequent updates in the iOS community, you may not be able to pace up with the leading app standards. So, to go an extra mile, picture-perfect business plan must be drafted for delivering the right solution. Put your right foot forward with TOPS – the leading iOS update and enhancement service Provider Company.
"Survival of the fittest" –the most popular phrase applies to the iOS app market. If you are not geared up to adapt the changes in the iOS app standards, you will be out of race. It is "Now" or "Never" and you need to pace up with the ever changing technologies. To avoid that, TOPS, is updated with the latest tools and technologies and offers iOS app updates and enhancement service to give the edge over competitors to the clients. We will update, enhance and redeploy business function critical apps for you so you can focus on creating value in your business.
We understand that, apps need to evolve at every phase with all the advancements taking place in the mobile technology. It's all about constantly improving the value of an app during the operational life-cycle. TOPS, is capable of enhancing and updating any app irrespective of its scale, scope and category.
MOBILE OS UPGRADES
Due to the frequent changes in the OS version, it becomes mandatory for an enterprise to provide dramatic new user interface and user experience of the latest version of apps. When mobile OS upgrades occur, we help you to make choice between
Making minimal changes to support new OS version
Leveraging the new OS features to improve the app functionality and user experience
Apps are integrated with a massive amount of backend data sources like CRMs, Authentication APIs, databases, file systems and content management systems. With TOPS, we make sure that when these backend APIs changes or are upgraded, appropriate changes are made to prevent app breakage.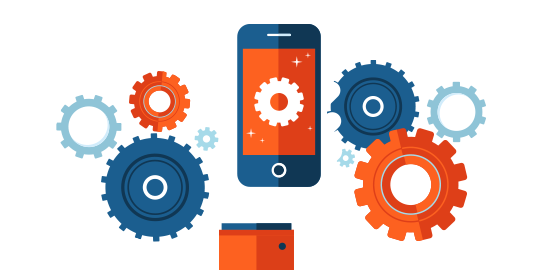 Why updates and enhancement is necessary?
To remove bugs and instabilities
To improve performance of the app
To add new features to the app
To add in-app purchases and advertisements within the app
To improve the security of the app to protect it from external threats
Importance of Update and Enhancement
Measurable improvements in app quality
Higher App ROI
Cost-Effective
Increases app productivity
App life extension
Continuous Alignment with business's strategic roadmap
Our experienced team of dedicated iOS app developers promises you a perfect coordination with the iOS application development trends irrespective of full-scale development or to upgrade platform.
Get a Free Quote
We extend our hands to help you with increasing ROI and automate mission-critical workflows.
Our experts will get back to you with a free, no-obligation quote.
GET A FREE QUOTE